JX175 Motorcycle screw Tire Studs for Winter

Gisselle Gan

Skype: jxcarbidewendy

Fax: 0086-731-22332243

Email: sales09@jxcarbide.com

Wechat /Mob /WhatsApp: +86 15873358163


steel body with tungsten carbide pin
Motorcycle screw Tire Studs for Winter
JX175 Motorcycle screw Tire Studs for Winter
JX175 studs is made of Tungsten Carbide pin plus better steel body, Pin with tungsten carbide material, high hardness, wear resistance, good strength and toughness, heat resistance and corrosion resistance,so then it can be long life, and steel body with galvanized, it in the rubber, will not to get rusty.
JX175 studs is suitable for motorcycle /loader,skid steer,tractor,forklift,off-road vehicle, speically for racing car.
Advangte:
1.Easy to install and remove-less than 1 hour with simple hand tools
2.Economic-add ultimate off-road capability to your normal ATV, UTV or4x4
3.Low ground pressure -environmentally with minimum impact
4.Proven-world renowned product
5.Durable-quality engineering, built to last
6.Versatile-all season capability in all condition
And we also supply the installation tools, both hand tool and power tool.
If you interested or want to know more information, just contact me. thanks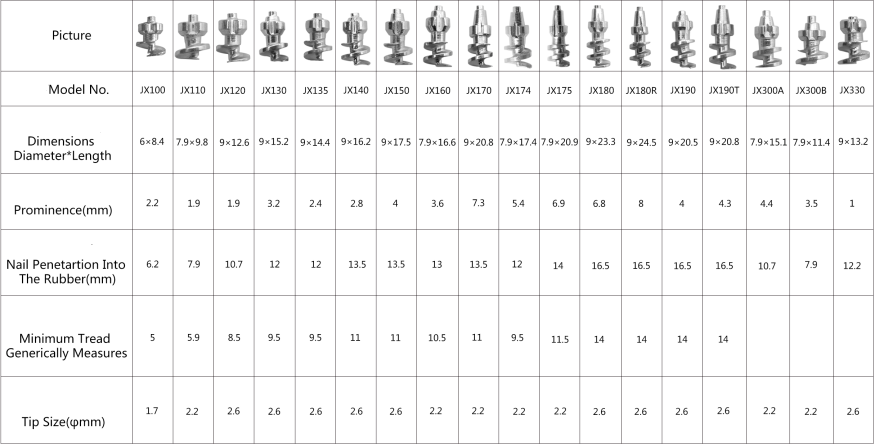 Motorcycle screw Tire Studs for Winter
Motorcycle screw Tire Studs
Scan the QR code to read on your phone
We could not find any corresponding parameters, please add them to the properties table