LWJX4*4-H9 Cemented Carbide Screw Ice Racing Studs For Bicycle /Motorcycle Tire

Gisselle Gan

Skype: jxcarbidewendy

Fax: 0086-731-22332243

Email: sales09@jxcarbide.com

Wechat /Mob /WhatsApp: +86 15873358163


Studs For Bicycle /Motorcycle Tire
LWJX4*4-H9 Cemented Carbide Screw Ice Racing Studs For Bicycle /Motorcycle Tire
Jinxin Tire Studs Features:
1.This kind of Tire Studs are suitable for most of tires and add ultimate off-road capacity to your ordinary ATV, UTV or 4 x 4
vehicles. It brings a good anti-slip property for your tires
2.Made of hard metal, these kind of tire stud screws are strong and durable in use
3.It has a low ground pressure and it is environmentally with minimum impact
4.It is easy to install with our professional drill and can match well with your vehicle tires,it can also be disassembled
according to the reason, When not in use,it could be removed lightly and stored for using again in the following season.
5.Please choose appropriate size of new studs in the installation process in terms of the depth of tire thread
Jinxin Tire Studs Installation:
1. Drill (using a very small bit) down from the center of chosen knob into the tire.
2. Drill a screw up from inside to out. If the angle isn't perpendicular to the tire, it will stick out one side or the other.
3. Do one hole and screw at a time. Put duct tape over the screws on the inside of the tire. Sometimes it is best to use two
layers of tape.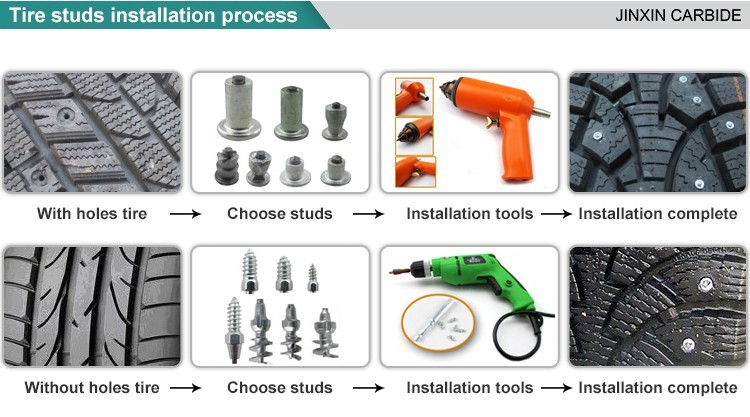 Scan the QR code to read on your phone
We could not find any corresponding parameters, please add them to the properties table