Motorcycle screw Tire Studs for Winter
Motorcycle screw Tire Studs for Winter are easily removed at season's end if desired.
steel body with tungsten carbide pin
Motorcycle screw Tire Studs for Winter
JX174 Off-Road Truck Studs for truck and car tire<>

<>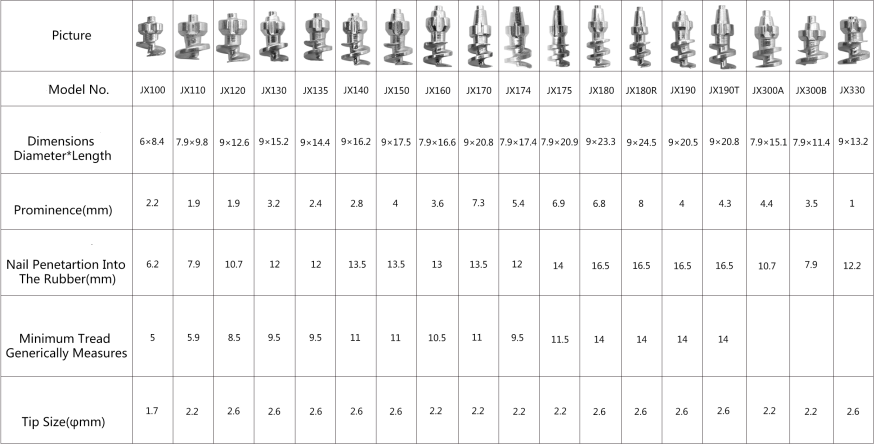 --100% pure raw material
--easily installed&removed
-- recycling use
-- lots of sizes & types are available/totally support customized
--good wear resistance/long working life
--good ice antiskid

All factors of the list are absolutely important on the winter tire studs, but it is not essential.

The essential of the winter tire studs is not only non-skid, but also the winter tire studs could give the driver a really comfortable environment to drive in the winter.
We are a factory which specialized in produce Tungsten Carbide Tools, especially for Tire studs, Screw Studs, Studs Pin, Also Aluminum rivet and Steel Rivet and so on.
If you have any questions,please do not hesitate to contact me.
Yuyu Zhang
Sales Manager
E-mail: 13397339096@ojinxin.com
Mobile:0086-13397339096
Whats up No.+86 13397339096
Skype: jinxin029
Add.:No. 500 Jinshan Road, Jinshan Technological Industrial Park, Hetang District, Zhuzhou,Hunan China
Fax: 0086-0731-22332243
Motorcycle screw Tire Studs for Winter
Motorcycle screw Tire Studs
Scan the QR code to read on your phone
We could not find any corresponding parameters, please add them to the properties table