High quality JX10x10-H30-T10 Tungsten Carbide Tire Studs Winter Tyres Spikes
--good anti-slip effect --samples will be given upon the inquiry --super grip ability --sizes & types are available --good wear resistance --strict tolerance controlled --100% virgin raw material --zinc plated for rust protection
body for steel, pin for tungsten carbide
Advantage:
--good anti-slip effect
--samples will be given upon the inquiry
--super grip ability
--sizes & types are available
--good wear resistance
--strict tolerance controlled
--100% virgin raw material
--zinc plated for rust protection
Professional manufacture for snow studs, tyre studded scews, antiskid boots nails:
New type snow screw car tire studded pin, easy to install and remove without assembling tools. using in different season, after winter weather can take them off for next turning. Choosing the screw studs only to based on depth of your tire thread.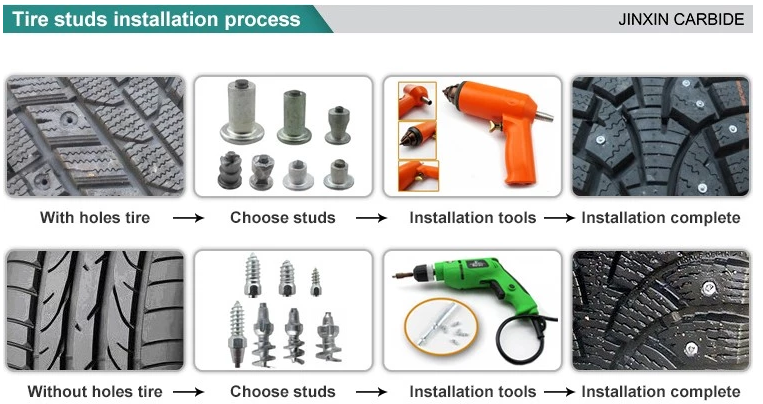 Packaging: Normal neutral packing or as per customer's requirement
Delivery Time: 3-25 working days after receiving advance payment.
Delivery Methods: By express, by sea or air.
Add:No. 500 Jinshan Road, Jinshan Technological Industrial Park, Hetang District, Zhuzhou,Hunan China
High quality stud JX10x10-H30-T10
Tungsten Carbide Tire Studs
Scan the QR code to read on your phone
We could not find any corresponding parameters, please add them to the properties table